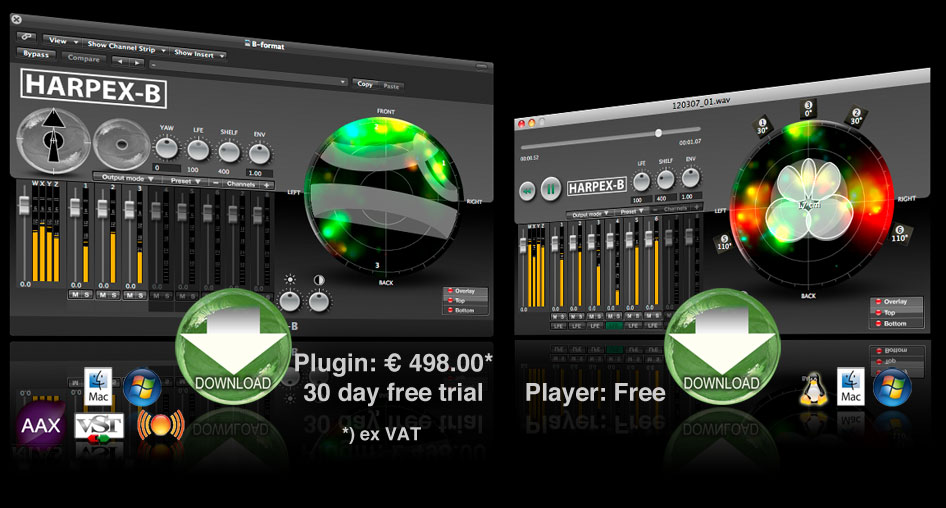 *) plus VAT for all customers in Germany and private customers in EU outside of Germany. VAT rate varies by country.
PLUG-IN OR PLAYER?
The plug-in is a component which can be used with a digital audio workstation and is intended as a tool for content producers who use B-format as part of their workflow. The player is a stand-alone application which can process and play B-format sound files directly to your sound card in stereo or surround.
WHAT PEOPLE ARE SAYING
Sphéric Collection: Harpex is our best tool. Check it out, it sounds wonderful.
Daniel Courville: The Harpex-B is the best 1st order B-Format decoder for tetrahedral microphones (SoundField, Core Sound, DIY), even if you're only working in stereo.
Giuseppe Silvi: yes the mic [SoundField ST-450] is wonderful! i only pushed rec! harpex is the best ambisonic tool I have ever used
Stéphane Blanchardon: The only "real" comparison I made was between Harpex plug and Surroundzone plug : it's like night and day ! I HONESTLY didn't know that the SPS200 could product such great results !
Trond Lossius: I am really impressed with the decoding abilities of Harpex, it is producing way better spatial definition than the software decoding plugin that comes with the SoundField microphone itself.
FEATURES
| | Plug-in | Player |
| --- | --- | --- |
| Coincident stereo output | | |
| Non-coincident stereo output | | |
| Hi-res surround output | | |
| Non-coincident surround output | | |
| LFE channel management | | |
| Direct/reverberant ratio | | |
| Per-channel delay | | |
| Custom stereo configuration | | |
| DAW integration | | |
| AmbiX output | | |
| AmbiX input | | |
| Custom HRTF sets / SOFA | | |
| Custom surround configuration | | |
| Soundfield rotation | | |
| Dominance control | | |
| Shotgun mode | | |
| Speakerdome mode | | |
| Binaural output | | |
| Automation | | |
SYSTEM REQUIREMENTS*
Plug-in
Player
Operating system
Windows XP or newer
Mac OS X 10.7 or newer
Windows 2000 or newer
Mac OS X 10.5 or newer
Linux 2.6 or newer
Processor
Intel Core 2 duo, 1.6 GHz or faster
Intel Core 2 duo, 1.6 GHz or faster
*) Applies to 48 kHz sample rate.
Compatible hosts*
Windows
Mac OS X
VST
AAX
VST
AAX
AU
Ardour
Audio Mulch
AudioFinder
Audition
Cubase
Digital Performer
LMMS
Logic Pro
Max/MSP
Nuendo
Plogue Bidule
Premiere Pro
Pro Tools ≥ 11
Pyramix
Reaper
Sequoia
TwistedWave
Wavelab
*) List is not exhaustive. Unless otherwise noted, the list applies to the current versions of each program. VST and AU versions are available in 32 and 64 bit versions. RTAS support is only available in 32 bit versions, and AAX only in 64 bit versions.
Plug-in licensing
It is necessary to register with a name and email address to download the plug-in. Each plug-in is associated with a license number. The license number is part of the download link, which will be sent to you by email. This license number is also imprinted in the plug-in along with the name of the licensee at the time it is downloaded.
Trial period
During the trial period, the plug-in contacts a license server each time it is loaded, in order to verify that the trial period has not expired. A network connection is therefore necessary during the trial period. If you choose to purchase the plug-in, you may activate up to two computers at a time.
Activation
The activation process itself requires a network connection. Once a computer is activated, it will not contact the license server anymore, and therefore does not require a network connection. If you upgrade or reinstall the plug-in, it will need to be reactivated the next time you use it. Reactivation does not affect your activation counter. Different flavors of the plug-in (32 bit, 64 bit, RTAS, VST etc) may also require separate activation, which will not affect your activation counter as long as they are installed on the same computer.
Transfer
After activating two computers, you may transfer one of the activations to a third computer. To do this, install the plug-in on the new computer. The first time you use it, you will be given the option of deactivating one of the previously activated computers. The first transfer may take place any time. Subsequent transfers are limited to one per year.
Upgrading / re-installation
To upgrade or download additional copies of the plug-in, use the same download link as the first time, i.e. do not register again, since your activations are linked to the license number, which appears in the download link. Whenever you download, you get a fresh copy of the latest available version.
---
© 2011–2017 Harpex Ltd